Preschool Classes:
3-5 year olds learn tumbling, ballet and tap during a 45 minute class. Emphasis is on learning basic skills through dance play and creative movement.
Primary Classes:
5 and 6 year olds continue to learn basic ballet and tap skills with an introduction to barre work. These are 45 minute classes.
Tap Classes:
7 year olds and up. Each class is 45 minutes in length. These classes are designed to teach skills and traditional technique to the tap dance lovers.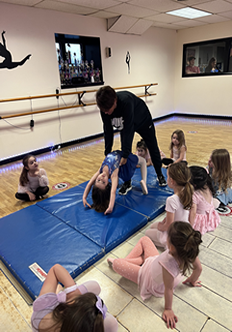 Jazz Classes:
7 year olds and up. From Broadway style, classical jazz, to today's Hip Hop Funk, we have it all. Each class is 45 minutes to 1 hour in length.

Lyrical:
Uses motion to interpret music and express emotion.

Hip Hop:
Today's moves to age appropriate music.

Pointe:
Pointe is available to those dancers with a strong background and teacher's recommendation.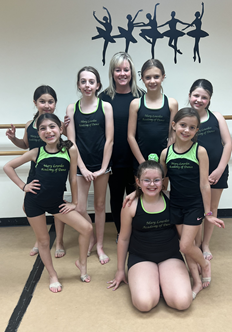 Ballet Classes:
7 year olds and up. The Royal Academy classical ballet to modern and beyond will challenge even the best dancer. Classes are 45 minutes to 90 minutes in length.
Competition Classes:
Tap, Jazz, Lyrical, Modern and Hip Hop. Testing and faculty appointment are necessary for all levels of competition classes. Our emphasis is on personal growth, team spirit, sportsmanship, and the desire to achieve excellence.
Private Dance Classes:
By invitation only; ½ hour of intense instruction